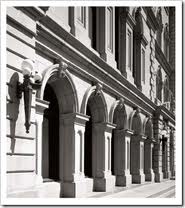 The South Carolina Law Review is pleased to present SCLR Online, an online companion to the printed journal. SCLR Online will initially expand the Law Review's Annual Fourth Circuit Survey to provide coverage of all published decisions by the court. The Fourth Circuit Survey began in 2009 as a collection of student authored case comments. Continuing this tradition, SCLR Online will remain primarily student authored; however, it will also solicit pieces from judges and practicing attorneys. In the future, we hope to expand to other areas relevant to South Carolina and our readership at large.
SCLR Online's coverage of the United States Court of Appeals for the Fourth Circuit includes: 1) case summaries of all published decisions, 2) analytical case comments on principal decisions from the court, and 3) statistical data on published cases. SCLR Online will also accept and solicit essays on Fourth Circuit practice from judges and attorneys for publication in the Fourth Circuit Survey. We believe that the Fourth Circuit Survey will continue to become a valuable compendium of Fourth Circuit jurisprudence far into the future. Please consider submitting today.
We hope SCLR Online will become a useful resource for the legal community. This is a work in progress, so we welcome feedback. Please email comments and suggestions to [email protected].