Melissa K. Scanlan
Associate Dean for Environmental Programs
Director of Environmental Law Center & Associate Professor of Law
Vermont Law School

Shaun B. Spencer
Director of Legal Skills & Assistant Professor of Law
University of Massachusetts School of Law–Dartmouth

Wm. Grayson Lambert
Associate Attorney
McGuire Woods, L.L.P.

Matthew Paul Crouch
Winner of the 2013 American Inns of Court Warren E. Burger Prize

Robert A. Parrish
Assistant Professor of Law
Elon University School of Law

Steven J. Willis
Professor of Law
University of Florida Levin College of Law

Abstract
Beginning in 2013, the federal government mandates that general business corporations include contraceptive and early abortion coverage in employee health plans. Section 4980D of the Internal Revenue Code imposes a substantial excise tax on health plans violating the mandate. Indeed, for one company – Hobby Lobby – the expected annual tax is nearly one-half billion dollars. Dozens of "for profit" businesses have challenged the mandate on free exercise grounds, asserting claims under the First Amendment as well as under the Religious Freedom Restoration Act.
So far, courts have been reluctant to hold corporations have religious rights; as a result, standing of a corporation to assert the religious beliefs and rights of owners has become the primary issue in the twenty-six separate cases moving through the courts. Courts are splits on whether to grant standing; however, a large majority has used a variation of relational or associational standing to grant preliminary injunctions against enforcement of the tax.
This article discusses the relationship of morality and religion to general business corporations. It concludes that over the past few decades, movements for social justice and corporate social responsibility have intertwined business corporations and moral issues, blurring the line between religion and commerce. It also concludes that courts should permit associational standing for closely-held corporations – particularly those electing S status for tax purposes – if the owners have unanimous (or near-unanimous) beliefs.
S. Alan Medlin
David W. Robinson Professor of Law
University of South Carolina School of Law

No Abstract
Richard C. Ausness
Everett H. Metcalf, Jr. Professor of Law
University of Kentucky College of Law

Abstract
This Article is concerned with the potential liability of those who disseminate false or inaccurate information which causes physical injury or property damage to those who rely upon it.  It will not address the question of whether those who advocate or depict violence or other antisocial activities should also be subject to liability.  For the most part, such publications are considered to be a form of constitutionally protected speech even when they directly cause physical harm to others.  Although the issue of liability for the publication of factually inaccurate information is narrower in scope that that of liability for the publication of "bad" ideas, there is a surprising amount of variation in how courts treat those who publish such information.  Liability may be based on whether the information relates to the sale of a product, whether it is embodied in a product; or whether it is disseminated electronically or in some kind of tangible form.  This Article will try to determine whether any of these distinctions is relevant to the type of liability rule that is applicable to those who publish inaccurate information.
The Article begins by examining the existing state of the law in this area.  Part I focuses on liability for information associated with the marketing or sale of a product.  In such cases, liability for product sellers may arise from product descriptions in advertising or express warranties, as well as mistakes in instructions and warnings.  Potential liability theories include negligence, misrepresentation, breach of warranty and strict liability in tort.  Part II examines liability for inaccurate information published in books, magazines and other tangible media.  Although plaintiffs have invoked a variety of theories, such as negligence and strict liability in tort, in general, courts have refused to impose liability, either on doctrinal grounds or because of concerns about the chilling effect of tort liability on the free exchange of ideas.
Part III ventures into the largely unexplored area of liability for "information" that is embodied in computer programs as well as the more conventional forms of information that are disseminated over the internet.  Because there are no reported cases on the subject, it is difficult to predict what sort of liability rule would be applied to those who sell computer programs.  In theory, stand-alone computer programs could be considered to be "goods" and, therefore, subject to U.C.C. sales warranties; however, it is less certain that courts will also treat them as "products" for purposes of applying strict principles.  On the other hand, consumers may be able to recover against product sellers when defective computer programs embedded in a product cause it to malfunction.  Part III also considers what liability rules currently apply to inaccurate information that is made available to the public over the internet.  What little case law there is suggests that courts will impose liability of some sort when the information provider is trying to sell a product, but not otherwise.
Finally, Part IV considers a bifurcated liability standard that distinguishes between information that is "commercial" in nature and information that is noncommercial.  Part IV also concludes that a negligence standard is appropriate for those who disseminate information of a commercial nature.  However, publishers of noncommercial information should be subject to tort liability only if they breach an express warranty or engage in fraudulent misrepresentation.
Pamela Pierson
Bainbridge-Mims Professor of Law
University of Alabama School of Law

Abstract
This article addresses the question: why isn't RICO used much? RICO, the Racketeer Influenced and Corrupt Organizations Act, both a crime and a civil cause of action, was passed in 1970 with much fanfare. The fanfare was deserved. RICO was an imaginative criminal justice initiative aimed at complex, systemic crime. RICO's civil cause of action was viewed as a robust tool for plaintiffs and a vital supplement to strained law enforcement resources.
 After conducting an in-depth analysis of RICO opinions, reported and unreported, rendered by the federal appellate courts during the seven year time period from 2005-2011, this article has an answer to the question.  Criminal RICO's time has come and gone, but civil RICO's potential has not yet been realized.  This article focuses on recent developments in case law that make civil RICO with regard to class actions, and in the pharmaceutical fraud area, newly viable.
The data analyzed in this article suggests that criminal RICO is anachronistic.  Simpler, more streamlined statutes are now available to achieve, far more easily than RICO, the benefits RICO used to uniquely bestow: providing context for isolated acts, linking far-flung actors, penetrating organizations to reach key players, stiff sentences, obtaining forfeiture of property used to commit crime and reaped from crime.  Civil RICO, on the other hand, is an untapped resource. Used properly, civil RICO is an optimal private attorney general tool and a boon for plaintiffs. This is true for two reasons.  First, RICO mandates treble damages at a time when, because of court rulings and legislative actions, many plaintiffs are limited to little more than single damages.  Second, in light of recent court rulings in RICO cases, RICO's elements dovetail with class action requirements of commonality and predominance, making RICO class actions newly viable.
This article proceeds in eight parts. Part I provides an overview of the RICO statute. Part II explains the methodology used to gather the data in this study. Part III discusses quantitative measurements from the data including how many RICO cases are decided each year and where they are brought. Part IV describes the types of RICO cases brought under both criminal and civil RICO provisions.  Part V examines the issues that have dominated RICO court decisions from 2005-2011. Part V discusses how recent court decisions on issues of "enterprise," proximate causation and "pattern" make civil RICO cases easier than ever to plead and prove.  Part VI analyzes the outcome in RICO cases including who wins, who loses, and which circuits favor which side. Part VII focuses on RICO class actions discussing past and future trends, successes, and failures.  Part VIII focuses on pharmaceutical fraud cases, noting why they are especially ripe for use of civil RICO.
Henry Mather
Distinguished Professor Emeritus of Law
University of South Carolina School of Law

No Abstract
The South Carolina Law Review proudly welcomes the following new members:
| | | |
| --- | --- | --- |
| Noah Glen Allen | Alysja Garansi | Taylor Pipkin |
| Bradley D. Barringer | Chris Hampton | Samuel V. Priddy, IV |
| Brigid Benincasa | Jacob Henerey | Amanda Reasoner |
| Emily Bridges | Jennifer Jokerst | Sheleena Rios |
| Colon D. Cagle | Cordes Kennedy | James Sterling |
| Thomas Perry Clinkscales | Jeffrey Lear | Christopher Trusk |
| Nicole Cuadrado | Brittany Lins | Emma Madison Walker |
| Benjamin Dudek | Todd R. Lyle | John Furman Wall, IV |
| Grace Faulkenberry | John Whitney McGreevy | Samantha Wilder |
| Abigail Forrister | Matthew Wyatt Orville | Stephen Harrison Williams |
Sarah Leverette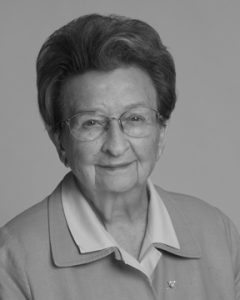 At the recent South Carolina Law Review Alumni Event in Columbia this past March, students and alumni had the pleasure of meeting or catching up with Ms. Sarah Leverette, a 1943 University of South Carolina School of Law graduate and former member of the Selden Society Year Book, the predecessor of the South Carolina Law Quarterly and the South Carolina Law Review.
Ms. Leverette, born December 30, 1920, in Iva, South Carolina, was not always set on a career in the law.  After completing her undergraduate studies at the University of South Carolina, she considered pursuing a degree in either medicine or law.  While she would have undoubtedly excelled at either pursuit, the South Carolina legal community is fortunate that she chose the path she did.
 Ms. Leverette's first job after graduating magna cum laude from the University of South Carolina School of Law was as a legal researcher for the S.C. Department of Labor, but she was soon persuaded by the Dean to return to the Law School to accept a position as a librarian and legal writing and research instructor.  Read more
The South Carolina Law Review is proud to announce the Editorial Board for Volume 65:
Volume 64, Book 4
Summer 2013
The Board of Editors of the South Carolina Law Review would like to congratulate the following students whose manuscripts were selected for publication in this summer's Survey of South Carolina Law:
BONNIE E. BULL
In Pursuit of a Remedy:
A Need for Reform of Police Officer Liability
EMILY A. EVANS
A Jurisprudence Clarified or "McLeod-ed"?:
The Real Constitutional Implications of Court-Mandated
Post-Secondary Educational Support
KARA S. GREVEY
An Exaggerated Response:
Possible Reactions to Florence v. Board of Chosen Freeholders of the
County of Burlington in South Carolina
JORDAN MICHAEL JANOSKI
Extraordinary and Unusual Circumstances:
The Compensability of Psychological Injuries Under South Carolina
Workers' Compensation Law
SARAH KATHERINE JOHNSON
School Choice in South Carolina:
An Analysis of Whether Private School Tax Credits are Right for South Carolina
WESLEY BENJAMIN LAMBERT
The Price of Life:
A Prediction of South Carolina's Approach to Expert Testimony
on Hedonic Damages Using the Willingness-to-Pay Method
PIERCE T. MACLENNAN
A Long Way from Home:
Slow Progress Toward "Home Rule" in South Carolina and a Path to Full Implementation
CHANDLER MARTIN
Delimiting Liability for South Carolina Limited Liability Corporations:
When Can an LLC Manager be Personally Liable for Tortious Interference
PHILLIPS L. MCWILLIAMS
Magnolia North Property Owners' Association v. Heritage Communities, Inc:
The South Carolina Court of Appeals' End Run Around the Necessity of Equitable
Justification when Disregarding the Corporate Form
STEPHEN D. SUTHERLAND
"Ownerfelonburglarzoid" on Trial:
An Analysis of South Carolina Burglary Law After State v. Singley
JOHN G. TAMASITIS
"Things Have Changed in the South":
How Preclearance of South Carolina's Voter Photo ID Law Demonstrates that
Section 5 of the Voting Rights Act Is No Longer a Constitutional Remedy
VORDMAN CARLISLE TRAYWICK, III
The South Carolina Primary Debacle:
The Impact of Anderson v. South Carolina State Election Commission
and Vague State Election Laws on the 2012 Election
Volume 64′s Board of Editors would also like to congratulate the following students whose case comments were selected for publication in this summer's Fourth Circuit Survey, on SCLR Online, or both:
TAMARA MARY VAN PALA
The Narrow Scope of Federal Preemption in State Commercial Credit Transactions:
Decohen v. Capital One, N.A.
JENNIFER BUTLER ROUTH
Digital Pillow Talk?
Waiving Marital Privilege at Work in United States v. Hamilton
BRITTANY M. MCINTOSH
Gamecocks Spur Trouble in Jury Deliberations:
What the Fourth Circuit Really Thinks About Wikipedia as a Legal Resource in United States v. Lawson
The following essays and case comments will also appear in Volume 64′s Fourth Circuit Survey:
IS THE FOURTH CIRCUIT STARTING TO HOLD BACK?
EXAMINING POSSIBLE CHANGES IN HOW THE COURT APPROACHES SEARCHES, SEIZURES, AND SUPPRESSION
Derek A. Shoemake
B.S., Old Dominion University; J.D., University of South Carolina School of Law; Law Clerk, U.S. District Judge R. Bryan Harwell.
THE RULE OF LENITY AND HYBRID STATUTES:
WEC CAROLINA ENERGY SOLUTIONS LLC V. MILLER
Stephen Wills Murphy
J.D., Ph.D., University of Virginia; Associate, McGuire Woods LLP; Adjunct Professor Law, Washington & Lee University School of Law.
SETTING CRITICAL LIMITS ON THE CHERRY DOCTRINE:
THE FOURTH CIRCUIT'S DECISION IN UNITED STATES V. DINKINS
Ruth A. Moyer
B.A., Moravian College; J.D., Temple University Beasley School of Law; Associate, Gerald A. Stein, P.C.
TRAFFIC STOPS BASED ON UNCORROBORATED VISUAL SPEED ESTIMATES:
MORE (NEEDED) THAN MEETS THE EYE, SAYS THE FOURTH CIRCUIT
Justin M. Woodard
B.A., Sewanee: University of the South; J.D., Tulane University Law School; Law Clerk, U.S. District Judge David C. Norton.
The Practice of Law in the 21st Century:
The Intersection of Law & Technology
Articles
Inadvertent Production of Privileged Information in Discovery in Federal Court: The Need for Well-Drafted Clawback Agreements
-Nathan M. Crystal
A Pragmatic Approach to Discovery Reform: How Small Changes Can Make a Big Difference in Civil Discovery
-Hon. Paul W. Grimm & David S. Yellin
Do You Really Want All that E-Discovery?
-Hon. Shiva V. Hodges
Keeping the Inference in the Adverse Inference Instruction: Ensuring the Instruction Is an Effective Sanction in Electronic-Discovery Cases
-Wm. Grayson Lambert
Fifty Shades of Sanctions: What Hath the Goldsmith's Apprentice Wrought?
-Justin M. Woodard, Grace A. Cleveland, and the Hon. David C. Norton
Risk Aversion, Risk Management, and the "Overpreservation" Problem in Electronic Discovery
-Kenneth J. Withers
Bleeding Data in a Pool of Sharks: The Anathema of Privacy in a World of Digital Sharing & Electronic Discovery
-Derek S. Witte
Predictive Coding: Emerging Questions and Concerns
-Charles Yablon & Nick Landsman-Roos
Congratulations to Derek A. Webb, winner of this year's Warren E. Burger Prize!
Mr. Webb is a 2012-2014 Fellow at the Stanford University Constitutional Law Center, and his winning paper is "The Original Meaning of Civility: Democratic Deliberation at the Philadelphia Constitutional Convention."  Click here for additional information about Mr. Webb, and we look forward to publishing his paper later this year.
Donald G. Gifford
Edward M. Robertson Research Professor of Law
University of Maryland Carey School of Law
William L. Reynolds
Jacob A. France Professor of Judicial Process
University of Maryland Carey School of Law
Andrew M. Murad
Associate
Arent Fox LLP 
Abstract
This Article uses the Supreme Court's 2011 decision in Bruesewitz v. Wyeth to examine the textualist or "plain meaning" approach to statutory interpretation.  For more than a quarter-century, Justice Scalia has successfully promoted textualism, usually associated with conservatism, among his colleagues. In Bruesewitz, Scalia, writing for the majority, and his liberal colleague Justice Sotomayer, in dissent, both employed textualism to determine if the plaintiffs, whose child was allegedly harmed by a vaccine, could pursue common law tort claims or whether their remedies were limited to those available under the no-fault compensation system established by the National Childhood Vaccine Injury Act.  Despite these Justices' common approach to statutory interpretation, they reached diametrically opposite conclusions in opinions that dissected the statutory language and quarreled over the meaning of "even though" and "if" clauses.  In contrast, Justice Breyer employed a purposive or "purposes and objectives" approach to statutory interpretation.  Rather than obsessing over the meaning of each and every phrase, Breyer looked at Congress's goals in passing the Act.  He recognized that Scalia's conclusion was correct, not because of the supposedly "plain" meaning of specific language, but because this interpretation was the only one that enabled the alternative compensation system to function as Congress envisioned.  Other scholars have analyzed Bruesewitz as a preemption case, but despite statutory interpretation's inherently decisive role in express preemption cases, this is the first Article to highlight Bruesewitz as an illustration of the emptiness of textualism.
Richard A. Booth
Martin G. McGuinn Chair in Business Law & Professor of Law
Villanova University School of Law
Abstract 
Most legal scholars agree that securities fraud class actions do little to compensate investors.  Most investors are well diversified and, thus, are just as likely to sell an overpriced stock as to buy one.  Moreover, since the defendant company ultimately pays in a successful class action, holders effectively pay buyers.  Although this circularity is widely recognized, few have noted that because of the anticipated payout, the prospect of a class action causes stock price to decline by more than it otherwise would, thus generating additional (feedback) loss for both buyers and holders.  In this Article, I describe a method by which one can measure the net effect of class actions on fund investors who are both buyers and holders of a fraud-affected stock.  Since an index fund almost always holds more shares than it buys during the fraud period, an index fund almost always loses more than it gains.  Thus, class actions systematically penalize rational index fund investors for the benefit of irrational and undiversified stock-picking investors.  Accordingly, index funds should oppose class actions as contrary to the best interest of investors.  To be sure, one possible problem is that in the absence of the deterrent effect of class actions, there might be more securities fraud.  The answer is that whenever there is a meritorious class claim, the corporation itself will also have a claim–against the individual wrongdoers–for any increase in cost of capital resulting from reputational harm and any direct expenses relating to enforcement proceedings.  In a class action, these elements of loss are imbedded in the price decrease that occurs when the fraud is discovered.  But these losses are in fact suffered by the corporation and should be the subject of a derivative action for the benefit of the corporation–and thus all of the stockholders–not a class action for the benefit only of those who bought during the fraud period.  Although the corporation claim may be smaller than the class claim in the aggregate, it is likely to be quite substantial from the point of view of individual wrongdoers and, thus, to constitute a significant deterrent to fraud.  Happily, the rules of civil procedure provide a clear fix for the problem.  First, the law is clear that a claim that can be handled as a derivative claim must be handled as a derivative claim and that a derivative claim must be resolved first before any class claim may be addressed.  Second, no class action may proceed unless the court certifies it as a proper class action.  And no action may be so certified if there is any other equally good way to litigate the issues (as by means of a derivative action).  But someone has to make the argument.  It is puzzling that no one has done so, especially because derivative actions eliminate feedback losses and serve to restore stock price.  There are several possible explanations.  One is that insurance does not cover derivative claims as it does class claims.  Another is that attorney fees are likely to be higher in class actions than in derivative actions.  These factors may incline plaintiffs' lawyers to favor class actions even though investors would be better served by derivative actions.  On the other hand, until now, no one has quantified the costs and benefits of class actions for real world investors.  As shown here, index funds almost always lose more than they gain and, thus, should oppose class actions in favor of derivative actions.  Indeed, index funds owe a duty to their investors to do so.
Michael Z. Green
Professor of Law
Texas Wesleyan University School of Law
Abstract
Recent attorney-client privilege cases offer a modern understanding of reasonable expectations of employee privacy in the digital age.  Employees have increasingly made electronic mail communications to their attorneys via employer-provided computers or other digital devices with an expectation of privacy and confidentiality.  Historically, courts have summarily dispensed with these matters by finding that an employer's policy establishing clear ownership of any communications made through employer-provided devices eliminates any employee expectation of privacy in the communications and waives any viable privacy challenges to employer review of those communications.  Nevertheless, within the last couple of years, several cases involving employee assertions of attorney-client privilege protection in emails sent on employer-provided devices suggest new thoughts about reasonable workplace privacy expectations.
As employees must communicate through employer-provided digital devices day and night, these attorney-client privilege cases help expose the fallacy of assuming employees cannot reasonably expect that emails will remain private if employer policies mandate that the communications are not private.  These new cases and related ethics opinions about privileged email offer a modern lens through which one may now view employee privacy expectations under a new paradigm that replaces the façade of assuming employees have no expectation of privacy due to employer policies.
Digital age expectations regarding employee use of smart cellular phones, portable laptops, and other employer-provided devices to make communications beyond standard work hours leave little expectation or opportunity for employees to reasonably communicate privately and confidentially by any other means than through these employer-provided devices.  As a result, this Article asserts that employer efforts to mine their devices for employee emails after disputes ensue comprises a form of electronic dumpster diving that should not be tolerated by courts, legislatures, or attorney ethics committees.
Scott R. Grubman
Assistant United States Attorney 
Abstract 
In Gilbert v. United States, a majority of the Eleventh Circuit Court of Appeals held that the savings clause contained in Section 2255 of the Antiterrorism and Effective Death Penalty Act does not authorize a federal prisoner to bring in a habeas petition a claim, which would otherwise be barred by the AEDPA's ban on second or successive motions, that the sentencing guidelines were misapplied in a way that resulted in a longer sentence not exceeding the statutory maximum.  The majority focused on finality interests, and worried that allowing a prisoner to avoid the AEDPA's ban on second or successive motions would lead to abuse and delay.  Some, including the Gilbert dissenters, have expressed concerns that denying a prisoner relief where a retroactively applicable subsequent change in the law renders that prisoner's sentence incorrect or invalid could result in constitutional violations.  This Article attempts to get past the rhetoric from both sides of the debate and proposes a middle ground approach that would pacify both the administrative and constitutional concerns that have been raised.
Wayne M. Gazur
Professor of Law
University of Colorado Law School
Abstract
With little fanfare, the 2008 amendments to the Uniform Probate Code (UPC) adopted the reformation of wills, as well as other kindred donative instruments, on account of mistake.  This Essay focuses on the reformation of wills and the impact that this little-heralded provision may carry.
While the introduction of reformation to the UPC is largely an improvement, it raises a number of concerns.  This Essay proposes that reformation of wills is not only doctrinally distinct from the interpretation of simply ambiguous wills, but also is a more troubling measure that has the potential to create more, possibly unfounded, will contests.  Further, while the closely related doctrine governing the interpretation of ambiguous wills needs to be clarified and made uniform by the UPC, the new reformation measure fails to accomplish that.
The Essay first briefly discusses the plain meaning rule and its role in addressing ambiguities in instruments and their reformation.  It then discusses the origins and operation of the new UPC reformation rule, weighs the impact of that change in the overall context of the UPC, and proposes a clarification to address the longstanding, but unevenly applied, doctrine of ambiguity.  The Essay further proposes clear limits on the role of juries in reformation proceedings.  It concludes by recommending safeguards that might be desirable for some testators to avoid unforeseen complications from reformation.
Richard T. Karcher
Professor of Law
Florida Coastal School of Law 
Abstract 
This Essay addresses the difficulty of proving financial harm that results when a head coach departs during the contract term and the school thereby abruptly loses a valuable asset, that being a successful and stabile athletic program.  Due to the unique and specialized nature of head coaches' services and the industry they work in, ordinary measures for assessing damage based on substitute performance and transaction costs are insufficient.  The author offers a theory of measuring a school's damages within the construct of a lost income-producing asset valuation, using a methodology based on liquidated damage amounts in comparable coaches' contracts.